About Living in Del Cerro
Del Cerro, "of the hill" in Spanish, is an upscale, hilltop neighborhood in San Diego that has been established since the 1960s.  Its sense of community and just over 2,000 residents give it the feel of a small town.  Located above Lake Murray and adjacent to the city of La Mesa, homes in Del Cerro are ideal for families who want to access the excellent schools.  Del Cerro's location in the inland part of San Diego and convenient location to Interstate 8 make traveling to nearby shopping, universities as well as all over the city very easy.  In fact, it's a straight shot from Del Cerro to Pacific Beach and Mission Beach due to the Interstate 8 ending there.
Real estate in Del Cerro Highlands caters to an upscale budget, offering a number of single-family custom and semi-custom homes to suit luxury lifestyle needs.  Featuring modern amenities in a traditional design, many homes have swimming pools and three-car garages, large lots, ocean views and much more.  Some have breakfast nooks and decks,  perfect for waking up and taking in stunning ocean, lake and city views.  Exquisite exteriors may include paved driveways, manicured lawns, and tennis courts, swimming pools and entertainment worthy backyards.  Homes in Del Cerro offer the perfect space to live in ultimate comfort and style.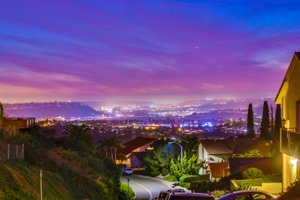 Del Cerro residents have a prime location near many outdoor recreational activities, restaurants, and shopping.  Lake Murray and its accompanying park are located right next to the community, offering gorgeous waterfront views and a 7 mile stretch of pathways around the lake for rollerblading, biking or walking dogs. The park holds exciting annual festivals like block parties with live music and an Independence Day bash at the private pool in Del Cerro Park.  There are many opportunities for all ages to have fun.
Shopping and dining in Del Cerro are easily accessible from residents' conveniently located homes.  Windmill Farms is known for it's high quality unique food options, a nearby fitness spa, deli stores, and family friendly liquor stores where most kids go for a giant slice of New York style pizza, a Mexican restaurant and a wine bar where neighborhood parents gather regularly.
Residents of Del Cerro are served by the San Diego Unified School District, where students regularly score top marks.  Del Cerro has several schools close to its community:  Hearst Elementary, Lewis Middle, and Patrick Henry High School.  For alternative education, there are also several private schools nearby.  San Diego State University is just across the interstate 8.  Within walking distance is the famous Viejas arena which boasts the Sweet 16 Aztecs basketball team and their beloved coach Steve Fischer. The Open Air Theatre headlines famous artists like the Plain White Tees, Adele, Bare Naked Ladies, Transiberian Orchestra and so many more on a regular basis.